Uno de los lanzamientos más esperados ha acaparado la atención no solo por su divertido festejo y el número de celebs que asistieron, la protagonista fue la exclusiva línea de ropa: Boss x Russell Athletic, una colaboración de ambas firmas que se convertirá en el hit de la temporada.
Lo vintage es lo de hoy y en la moda no puede ser la excepción, mucho menos si se trata de prendas deportivas que por ahora son un must have debido a que se busca comodidad en la ropa sin dejar de lado el estilo y las tendencias, por eso Boss x Russell Athletic unieron sus talentos para crear una nueva línea de sudaderas que podrás personalizar y colocar hasta cuatro parches de letras estilo universitario para darle tu propio sello de distinción.
El lanzamiento de esta colección tenía que ser a lo grande y por eso pusieron toda la organización en manos de los especialistas en eventos especiales Villa Eugénie que crearon el concepto y todo un ambiente festivo en el Gothan Hall de Nueva York que ambientaron como una cancha de baloncesto para realizar una película en la que un equipo celebra haberse llevado el campeonato al terminar la temporada.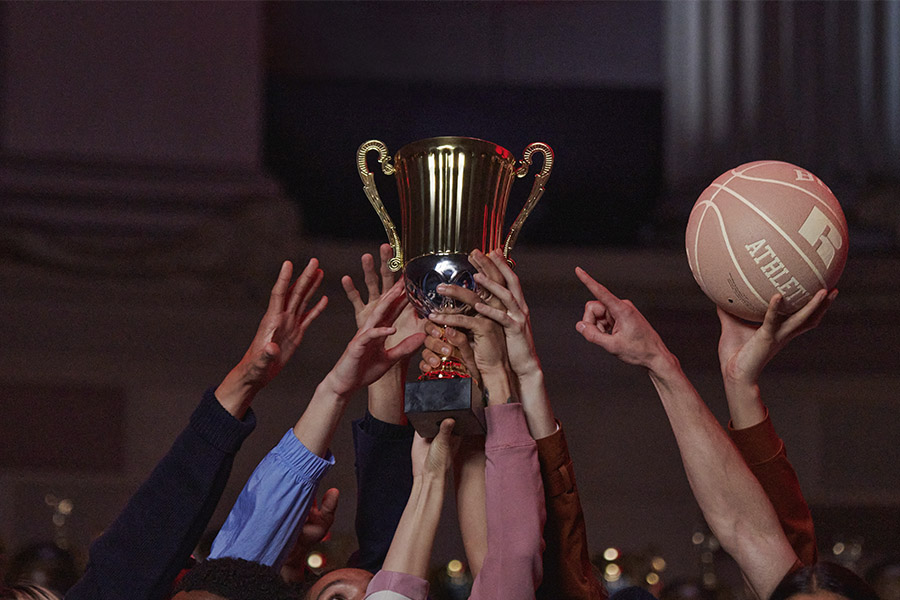 It may interest you: Siete formas de asegurar que tu traje te quede perfecto
Un dream team en acción
Los integrantes de ese glorioso equipo son nada menos que Ashley Graham, Bella Hadid, Precious Lee, Lucky Blue Smith, Keith Powers que mientras bailan derrochando energía y buenas vibras lucen la colección de clásicos que están basados en archivos anteriores de ambas marcas. Algunos de estos modelos son unisex y podrás ver en ellos el logotipo de BOSS x Russell Athletic.
La fiesta que se celebró de manera virtual y siguiendo todos los protocolos sanitarios para las personas que estuvieron reunidas, ha dejado marcado un precedente de cómo se ha roto con todos los límites y fue solo el inicio de este lanzamiento que también contempló un desafío protagonizado por la estrella de la NBA Dennis Schöder, a través de la cuál invitó a creadores de Tik Tok a mostrar sus habilidades utilizando el balón exclusivo de BOSS Athletic.

¡Forma parte de la acción

!

Al ritmo de sonidos de los 90 como el tema I wish, de Skee-Lo, algunos tiktoker como Desi, Levin Hotho, The Sharp Twins, Tega Alexander y Kayliah Balou han convertido sus canales en su cancha de baloncesto.

Si ya ansías tener en tus manos una de las exclusivas piezas que forman parte de la colección debes saber que ya están disponible en línea en boss.com. Únete a la fiesta y adquiere tu favorita.

No dejes de leer:

The most important trends in men's fashion 2021

5 Tendencias que hacen más cómodo cualquier outfit

10 ideas de cortes de cabello si tienes pelo chino y deseas renovar tu apariencia

The entrance The hottest virtual party of the year was hosted by Boss x Russell Athletic was published first in Esquire.